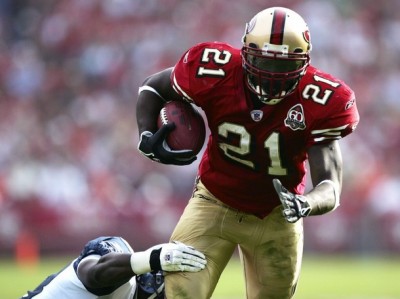 Frank Gore Sidelined

Yesterday, the San Francisco 49ers missed out on an opportunity to go 3-0 after a powerful defensive performance against Brett Favre and Adrian Peterson went for naught on a desperation Hail Mary pass with two seconds to go. It should have never gone that far. With under 2:00 minutes remaining on the clock, the Niners shut down the Vikings and took over possession.
Unfortunately, Jimmy Raye choked and called three running plays in a row, allowing enough time for the Vikings to get the ball again and end the 49er hopes. How much does Shaun Hill have to do for the OC to trust him? He could just as easily installed Michael Robinson, his best pass receiver out of the backfield, to catch a swing pass or a fullback delay -- ANYTHING, but three straight runs!
THOUGHTS:
~ Vernon Davis officially became a star today with his tremendous pass catching and great blocking;
~ Kudos to the front three on the defensive line of Isaac Sopoaga, Aubrayo Franklin and Justin Smith. Opponents are not going to enjoy trying to run the ball against this group;
~ It's time to get Jason Hill out of the doghouse and back onto the field. The 49ers can use his ability to step up late in games when needed;
~ I don't know about anyone else, but it was obvious to me (and my wife) that Frank Gore was limping BEFORE the game. He is suffering from a high ankle sprain, which is a nasty form of ankle injury that lingers a lot longer than the predicted two weeks they say he will be out;
~ It's time to activate Kory Sheets and add some speed and the ability to get outside to the running game. Sheets is a liability as a blocker so he'll have to be used tactfully;
~ It's also time to use some of Michael Robinson's athletic ability. Now in his fourth season, he has thrown ZERO passes, and has not been allowed to run the option. Come on guys, this kid is talented. Mix it up a bit. Vanilla is too bland.
Gary Mialocq
The SF 49er Observer

Copyright @ 2009
All Rights Reserved