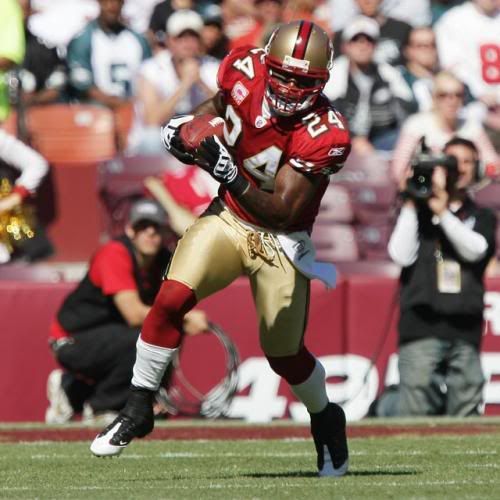 Michael Robinson
A Wildcat is something that strikes quickly and slashes away. The way the 49er "Wildcat" has been run thus far, it definitely is no wildcat and hasn't earned the name "TASER".
I am entirely patient with Jimmy Raye's vanilla play calling and understand the reasoning behind it although I'd love to see Hill given more opportunities to throw the ball. However, when he puts the Wildcat to use what is he thinking? Singletary was quoted a couple of weeks ago as saying that Michael Robinson was the best at running the wildcat. Had Robinson and not Spurlock been playing last Sunday, that pass would most likely have been complete. Robinson not only played QB his senior year at Penn State but he won the Big 10 Offensive Player of the Year Award and threw 17 TD passes while running for 8 more.
The Wildcat will not work UNLESS you have someone running it who can pass. The threat of the pass makes it that much more useful and that much more of a threat to the defense. Robinson is a proven passer.
Come on, Uncle Festus, re-think your "Taser" and this time
LOAD IT!

Copyright @ 2009
All Rights Reserved