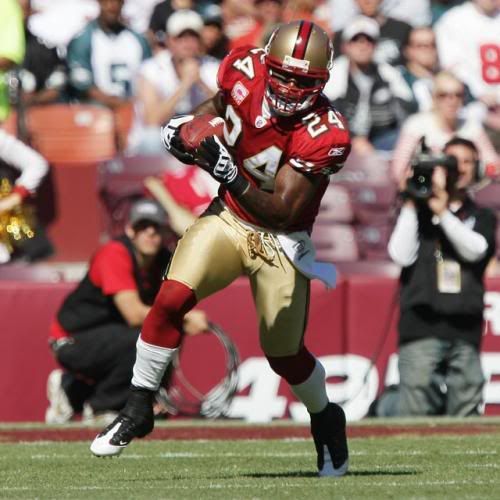 Michael Robinson
I
n 2006, the San Francisco 49ers drafted a QB out of Penn State who head coach Joe Paterno called "the greatest athlete I have coached in 55 years at this university". He was a wide receiver who Paterno switched to QB his senior season because he had no other player on the roster who was capable. His performance was incredible. He was named Big 10 Offensive Player of the Year and led his team to an 11-1 record, the Big 10 Championship, and victory in the Orange Bowl. His name was Michael Robinson.

In his senior season at QB, he completed 162 out of 311 passes for 2,350 yards and 17 TDs. His passer rating was 127.2. He also ran 163 times for 806 yards and 11 Tds, for a 4.9 average per carry. He had, in his first two season in college, caught 43 passes for 585 yards and 3 TDs. He also was a standout on special teams.

With such a dynamic talent coming to a QB-starved team, you would think the 49ers would have jumped at the opportunity to see what Robinson could do in the NFL at QB. Unfortunately, the Niners were led by head coach, Mike Nolan. This stubborn little man refused to play Robinson on offense unless absolutely necessary, and put him on special teams, despite Michael's pleas to be given an opportunity to prove himself as a QB in the NFL.

In 2 1/2 years under Nolan, Robinson was not only not given an opportunity to play QB, but was turned into a RB, an unfamiliar position and averaged less than 2 carries per game. In his entire career with the 49ers he has thrown ONE PASS, averaged 2 carries per game, and has not taken a single snap from QB.

This season Jimmy Raye is installing the so-called Taser and used Spurlock in that role who was flat-out terrible. He now uses Frank Gore in an entirely forgetful and unimaginative "Taser". Mike Singletary said that Michael Robinson knew the taser best, but he has not been given a single opportunity to run it. What are the 49ers afraid of?

To understand the stupidity of the way he has been handled, let's examine what he has done in the roles they have assigned to him. He has been the leading tackler on special teams for a couple of seasons, and is far and away the best upback this team has seen in quite awhile. He is a punishing blocker, and his double block led to Alan Rossum's kickoff return for a TD vs. Arizona last season, and he also laid the block that sprung Delanie Walker for his kickoff TD return in a preseason game last year.

Now, after the Niners foolishly cut Alan Rossum, they put Delanie Walker as the kickoff returner and he immediately fumbled. Glen Coffee lost his starting job in college due to excessive fumbling so he wasn't the answer. They instead turned to Mr. Reliable, Michael Robinson, who is averaging over 23 yards per return. The only problem is that we no longer have Michael Robinson as the upback, with his devastating blocks that spring the return man. Instead, we have Glenn Coffee who couldn't block his grandmother if she was in a wheelchair. Against Indy, Coffee missed blocks which resulted in Robinson being tackled long before any defender should have made contact.



WHERE DO WE GO FROM HERE?


Michael has been nominated for the Pro Bowl and Niner fans can vote for him to make it on special teams. Beyond that, let's hope that Jimmy Raye realizes that he has an offensive weapon that is not being used. It's probably too late to give him his chance at QB as it has been four years since he played the position. Michael, however, should be used in the Taser along with Gore and given the opportunity to roll out and pass the ball. He should also be used as he was last season as the backup FB specializing in receiving out of the backfield.
The latter half of the 2008 season, Singletary utilized MRob as the backup fullback and he caught 17 passes for 201 yards, an 11.9 average which was good enough to be #3 among NFL RBs last season. He made a great leaping catch vs. the Redskins in the 4th quarter that preserved the drive and led to victory.

When Tom Rathman was playing we had a former QB who also wore #24. His name was Harry Sydney and many Niner fans remember Harry's clutch roll out option pass to Brent Jones which was instrumental in leading us to victory over the Redskins in a playoff game.

It's time for Raye and Singletary to open their eyes. They have a diamond in the rough that they need to polish and USE. He's a great athlete who succeeds at every assignment he is given.

Gary Mialocq
The SF 49er Observer







Copyright @ 2009
All Rights Reserved