As Mike Singletary's 49ers took the field for the first time in the 2009 season, as expected the defense was ahead of the offense and two men in particular made their presence immediately known. Both of these guys are expected to step up this season in order for this defense to be top rated.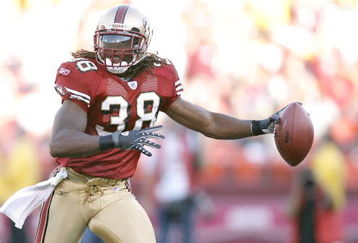 The first was safety Dashon Goldson who is replacing Mark Roman as the starter. Goldson is a 6'2" 200 lb. athletic performer who intercepted the first pass of the day, made a great hit on the next play, and then almost intercepted the third pass but the ball fell to the ground as he collided with the receiver. Goldson's athleticism could not be missed and it is no wonder that Mike Singletary named him his starter before the season.
The other player to really stand out was defensive lineman Isaac Sopoaga, the 6'2" 330 lb. Samoan giant who has steadily improved each season since becoming a 49er and whose presence on the defensive line last season was instrumental in their improvement against the run. Yesterday, Sopoaga regularly commanded a double team while playing at NT, batted down a pass, and gave center Eric Heitmann and guard David Baas all they could handle. He had penetration and put lots of pressure on the QB. The massive Sopoaga appears to have developed into the potential star the Niners have always hoped he would become. Defensive linemen develop more slowly than any other position in the NFL and the patience of 49er management may well be rewarded this season.
The 28-year old Sopoaga is just coming into his prime and could be a huge force in the middle this season.

Copyright @ 2009
All Rights Reserved