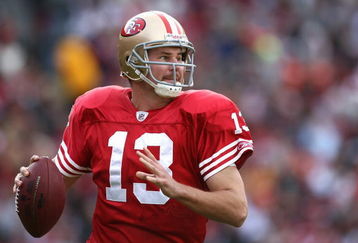 Shaun Hill, 49er Quarterback
B
etween the solid play of Shaun Hill, who played ten (10) plays, completing 2 for 2 for 41 yards, both to TE Vernon Davis, and scrambled for nine yards showing poise and leadership, and the 7 for 9 passing for 98 yards and a TD by solid veteran QB Damon Huard, came the meat of the sandwich, Alex Smith. I was very hopeful that the reports out of camp were true and that Alex was really making strides. Unfortunately, that was before he took the field when the 49ers opened the 2009 season with a preseason victory over the Denver Broncos.

It has always been true that he possesses a strong arm, however, against Denver he showed the same lack of poise and confidence that has hung over his head his entire pro career. Alex takes too long to make decisions, way too long -- whether it is making up his mind to to pass, to whom to pass, or when to hold 'em and when to fold 'em. He simply makes slow decisions. His amateurish attempted jump pass to Glenn Coffee was a perfect example. To say I was thoroughly disappointed in his performance is an understatement. This guy with all the physical talent in the world, simply lacks the natural instincts for the position. It's a conclusion that is inescapable. When Alex first came to the 49ers, Jerry Rice took a long look at him and said, "He is not the answer". Jerry was right.

Yes it is true that Smith has had all kinds of disadvantages -- multiple offensive coordinators, a lack of talent at the wide receiver position until this season, injuries, etc. However, each time he takes the field the same problems exists. His college coach hit the nail on the head when he said that the only way Alex learns the position is to repeat things over and over again. That is an admission that the position is not instinctual, and that he simply lacks the natural instincts so necessary for success. Natural instincts cannot be taught. You either have them or you don't. Unfortunately, Alex doesn't.

It was very clear that Shaun Hill has the poise and game management skills that Alex so sorely lacks. Mike Singletary's decision is really not a hard one. Shaun Hill will be the 49er QB for 2009.
"
He's great at managing the game
,"
Singletary
said of Hill Friday night. "
You know he can manage a game, but he can also throw the ball downfield. … How consistent, and on what basis? That's something we still have to look at, but we pretty much know what's there
."

Copyright @ 2009
All Rights Reserved